Impunity from Lunacy
Books One and Two


For many years, ellen Marie Blend has been receiving psychic messages. Most of her information comes to her visually, in the mind's eye; however, sometimes an unheard message is received in her head, or a clear voice is heard from an angel or ascended master.

While touting to be spiritual rather than religious, she has had many encounters with revered figures of religion. One thing is for certain. She has an open channel of communication with the spirit world.

Knowing that everyone may not accept what she has witnessed, she introduces some cartoon humor in hopes that all can read and enjoy.
Unraveling The Weave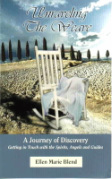 Spirits, Angels, and Guides
A journey of discovery: Getting in Touch with the Spirits, Angels and Guides. Author Ellen Marie Blend writes a metaphysical mystery of finding a parent's purpose, romance over the ages, mother-daughter relationships, and completing one's karma. It is a book of self exploration through getting in touch with the spirits, angels and guides. She receives psychic messages verbally, by the internal visual eye, and telepathically.
Click Book for Table of Contents
---
Visual Encounters

Symbolic Communication
Author Ellen Blend writes a true mystery of life based on a personal exploration of psychic visions. With these paranormal experiences, she feels she is peering in at the soul level. She writes of the love of a soul mate, and is able to communicate telepathically with him. While she has numerous visual encounters, her friend is needed to interpret her messages. A blend of talent emerges, and in time, Ellen learns to believe and trust in her visual experiences.
Click Book for Table of Contents
---
Not About Money - Discrimination in the Workplace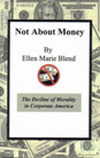 Autobiography
Ellen is promoted into management only to find that her career is soon threatened. She is the only female employee among an older group targeted, and feels compelled to file a discrimination lawsuit to protect her rights and take a stand against corporate America. She is assisted by an astute girlfriend, a competent attorney, and the support of a group of unsolicited men and women co-workers of all ages. As the depositions unfold, Ellen shows her true strength as she fights back for the sake of principle, and not about money.

Click Book for Table of Contents
Controversial Book: Paid advertising was refused due to
media
being
fearful of repercussions from their advertisers.
---